Pools are a great way to cool off and enjoy some time outdoors during the summer. This is why many people consider landscaping their pool area – so that it isn't just space around the water. Pool landscaping is much more than just planting a few flowers and trees around your pool. It's about creating a space that can be enjoyed for years to come.
But if you don't know what you're doing, landscaping your pool can be more than just an eyesore – it could pose safety risks as well. In this post, we will discuss how to pick the best design for your landscaping, why you should landscape your pool area, and what steps you need to take when doing so!
What is Pool Landscaping?
Pool landscaping is an aesthetically pleasing way of having both pool and landscape in one place. It can be done in many different styles, depending on your preference. What's more, it's a great way to look after the environment and bring life into what was once a dull space. It's also an opportunity for you to add some personality to your outdoor living area where friends and family can gather together in style.
What Are the Benefits of Pool Landscaping?
Pool landscaping is a great way to add value and enjoyment to your pool area. Here are just some of the benefits:
1. Privacy
Your pool landscaping will increase the sense of privacy that your family enjoys around the pool area. With hedges and plantings strategically placed, you can create a barrier to ensure no unwanted view into your backyard living space.
Making sure you have ample fencing or shrubbery surrounding your pool ensures prying eyes cannot look into your pool area.
That can be great for families with children who are not mature enough to understand the difference between public and private areas.
2. Add More Value to Your Home
A well-planned landscape around your pool will not only be inviting to all of your family and friends, but it will also provide some added value for the next time you decide to sell. That is something that every homeowner should consider before they plan their landscape design.
Better curb appeal means more people are interested in making an offer on your home when compared with other homes that do not have any landscaping done to them.
That's why pool landscaping should be considered one of the most important parts of your outdoor living space design. Buyers will feel more confident in their purchase decision, so they are less likely to keep making offers on other homes.
3. Aesthetic Appeal
One of the best things about pool landscaping is that it can be done to provide an aesthetically pleasing and relaxing environment. It doesn't have to look like your average yard full of grass, rocks, and dead plants.
Pool landscapes are designed with natural elements such as trees, shrubs, flowers, and rock features to provide a relaxed feel to your pool area.
4. Reduce Debris
Having a landscape around your pool will reduce the amount of debris in and around it. This is especially important when you have children or pets all year round.
By adding plants, flowers, and rock features to your pool landscaping design, you can ensure fewer things are being blown onto the surface from other areas on your property.
5. Better Drainage
If you live in an area where there is a lot of rain, pool landscaping can be the best way to help improve drainage around your pool. This is especially important if you live in an area where there are many puddles and standing water for long periods.
The right pool landscaping design will help ensure any excess water around your pool can be directed away from it so you don't have leakage, damage, or other issues that may come from water pooling around the area.
6. A Safe Play Area
Pool landscaping is the perfect way to provide a safe, fun area for your children and pets. With trees, plants, flowers, and more carefully placed around your pool's perimeter, you can create an environment that is great for entertaining guests while also providing safety when it comes to small children or animals running near the water.
What Should You Consider when choosing a perfect pool landscape design?
Pool landscaping is an important part of pool ownership. Whether you are looking to improve the aesthetics around your pool or trying to increase resale value when it comes time for a change in property, there are some key things that every owner should know before starting such a project. Here are the top best tips that can help you choose the perfect design and landscape for your pool!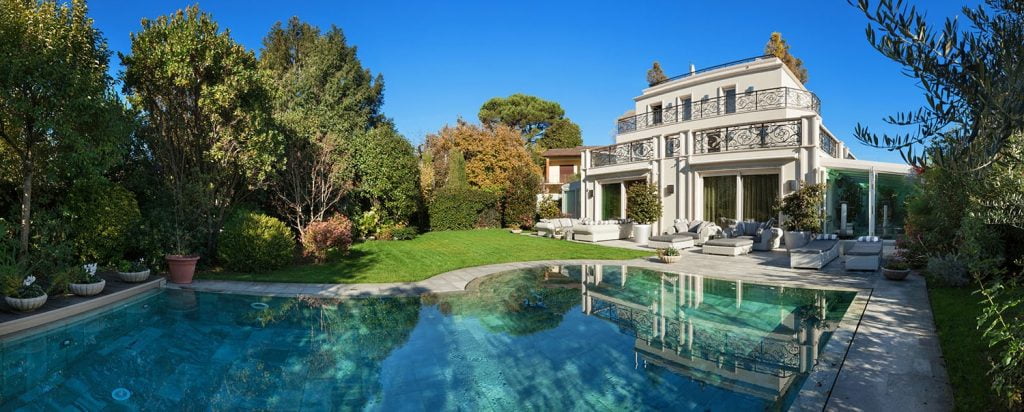 1. Decide if you want to do the work yourself or hire someone else.
There are many options available for pool landscaping, but doing it yourself can save some money and gives you a great sense of pride when finished with the project. However, be aware that setting up landscape design is hard work! If you don't have any experience with this kind of work or don't have the proper tools, you should probably hire a landscaper to do it for you.
2. Pool and Landscaping Design
You want to make sure that your outdoor space is cohesive with the rest of your property but doesn't blend in too much since it's a separate area for you to enjoy. If done right, this can create a wonderful feature on your lot while still keeping everything looking natural and aesthetically pleasing.
3. Materials and Your budget
Pool landscaping is expensive, and you want to make sure that the investment of time, energy, money, and resources will not only look good but hold up well over months or even years! You can spend a lot of money on pool landscape design, but it might be better spent elsewhere on the project if your budget is tight.
Asphalt, pavers, and concrete are common pool landscaping materials that work well in various settings. Still, you should avoid using these on an already established deck or patio unless your budget is extremely tight. These items can be more expensive to install than some other options like natural stone, grasses, and plants which might cost very little (and even nothing) to install depending on your existing landscape.
4. Pool's Location
It's important to know the location of your pool in terms of its relationship with other parts of your property. For example, if you have a large backyard area but only a small pool deck off to one side, it might make sense for landscaping around that pool to be more expansive and lush while keeping other areas sparse because there isn't much room to work with.
Another thing, the pool landscaping design should be a reflection or a representation of what surrounds it and where it's located. For instance, if you have an in-ground swimming pool with natural rock walls at its base, it would make sense for the surrounding landscaping to have a natural or rustic feel.
If your pool is located near the ocean, it would be great for your landscaping design to reflect that! A more modern pool landscape with clean lines and hardscape materials may not provide the look you are going for.
5. Personal Style
The landscape design that you choose should be aesthetically pleasing to your eye. You can take inspiration from other pools, but don't feel obligated to copy someone else's style even if it looks nice! There are endless possibilities for pool landscaping, and choosing the right one is an important part of making sure everyone enjoys your pool and outdoor space for years to come.
6. Amount of light Your Yard Receive
The lighting around your pool can affect how much time it takes for algae and moss to grow on the surfaces of your pool, which in turn will impact both clean-up efforts as well as aesthetic appeal.
Areas located further away from trees or other landscaping elements will typically receive more sunlight. These areas are often the best choices for pool landscapers who want to keep their pool clear and green all year round!
At the same time, if you have a very sunny yard that receives optimal amounts of light, this is also not ideal when it comes to landscaping around your pool since excessive heat can damage the surfaces of your pool.
The best way to deal with this is by using shade-producing landscaping features around or near your pool, which can reduce sunlight exposure and keep things cool. For example, large trees are a great choice for this purpose since they block light and produce oxygen!
7. Type of soil in Your Yard
Different types of soils require different amounts of work, so you need to have a better idea before starting any project.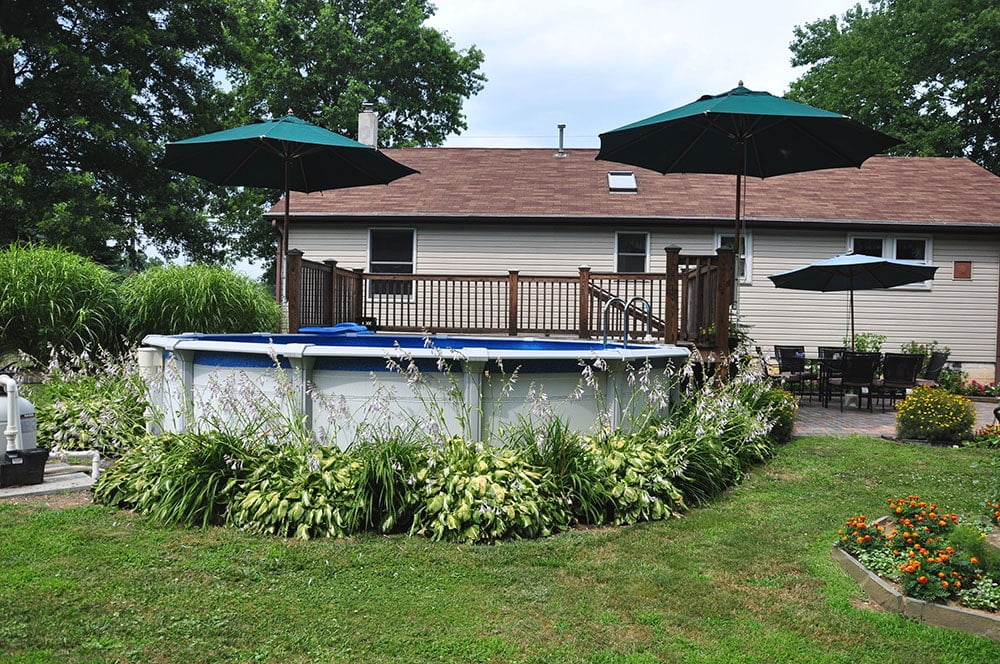 Loose and well drained: these are ideal conditions for pool landscaping. Your landscaping will require minimal effort and should be a relatively inexpensive project no matter what you choose to do.
Loose but poorly drained: the soil in this scenario is still good for pool landscaping projects because it can easily be amended with topsoil or drainage material rather than requiring expensive excavation work. However, it may be more expensive than other pool landscaping projects because the soil needs to be prepped before you can begin planting.
Tight clay: this type of soil makes pool landscaping a much trickier project that will require specialized equipment for excavation and reseeding or sodding, which can lead to higher costs.
Stony, rock-filled, or hardpan: if your soil is like this, you will need to do all pool landscaping work by hand and provide enough quality topsoil for planting. If not done properly, it could lead to future problems with water drainage that require more expensive fixes down the road.
Sandy: if you're dealing with sand, there is a chance that pool landscaping and the addition of plants may not even be an option. If it's too dry to allow grasses or groundcovers to take root, water will have nowhere to go but up through your decking material, leading to some serious problems.
If your soil is any of the above, it would be a good idea to consult with landscaping professionals before moving forward. These conditions require specific treatment that you may not have the knowledge or equipment needed for pool landscaping projects on your own.
What is the Best Landscape to put around a Pool?
1) Above-Ground Swimming Pool
Above-ground pool landscaping possibilities are endless. There are a variety of ways you can landscape the area around it. Here are some great ideas that will help inspire your landscape design plan:
Build a Pool Deck
You can always start with the basics. A nice landscaped area around your above-ground pool will look impressive as well as enhance its beauty.
You may even want to add ornamental features like water fountains or statues and improve the color to make it more interesting for visitors or guests. Also, try greenery style by adding flowers with containers.
Of course, this would be much easier if you have outdoor space such as an expansive yard available adjacent to the swimming pool itself.
Add Gravel or Landscape Rocks
Laying gravel or landscape rocks around the bottom of your pool can create a beautiful perimeter that requires no maintenance other than picking up the occasional stray pebble.
In addition to aesthetics, gravel helps keep mud from pooling in this area and attracts much fewer insects than soil alone.
The best part is that there's nothing toxic about it! If anything gets inside your pool with this layer surrounding it, all you have to do is vacuum them out without worry for yourself or kids/pets getting into contact with any chemicals.
Add Ground Cover Plants
Suppose your backyard is rather limited in size. In that case, adding groundcover around the perimeter of your above-ground pool might work better than planting flowers that require a lot of space to grow into full bloom, thereby wasting valuable real estate!
Look for appropriate flowering vines or shrubs that can grow to about the same height as your pool steps. Some good choices include perennials such as bee balm, creeping rosemary, and cardinal flower, which will readily colonize an open sunny ground invitingly adjacent to a poolside deck or patio area.
Plant Some Trees around It
If you have large enough space, do not forget to add some shade-providing trees near your above-ground swimming pool! In addition to providing much-needed coolness on hot summer days, they would also serve as excellent windbreakers against a strong breeze, allowing you to enjoy water activities with peace of mind undisturbed by gusts from all directions.
Add Lighting around It
Above-ground pools require adequate lighting during night time too, especially if you love swimming at late hours of the day. Try using decorative solar-powered post lights encircling its perimeter with one light every 5-feet apart from each other.
That creates a nice visual effect and makes your above-ground pool safe and secure even when you are enjoying some alone time in there after dark without worrying about security issues.
2) Inground Swimming Pool
Inground pools' landscape also deserves to look attractive. That means their landscaping ideas should be exceptional. Here are the few ways you can landscape the area around your inground pool:
Light Up the Pool Area
Lights are among the best landscape lighting for an inground pool because they offer a touch of elegance, charm, class, and beauty while improving safety. They are perfect for creating a spectacular nighttime pool ambiance, especially when you place them underwater.
A well-lit inground pool looks chic and inviting, while dark areas look sinister and uninviting. Installing landscape lights around your inground pool is one of the best ways to ensure safety by ensuring that everyone who enters your pool area can be easily seen at night or during early morning hours when it's still quite dark.
Plant a row of tall trees
If your pool is located in the backyard with plenty of open spaces, then planting a row or two of tall trees can be an excellent inground pool landscaping idea. In this way, your pool will get hidden from view, and people won't even know that it's around.
Just make sure to choose what types of trees would grow well with an inground pool environment, such as palm or pine trees, instead of maple because they don't drop too many leaves during fall time (which could block sunlight).
Add Plants & Flowers
One of the easiest ways to enhance your pool area is by adding some color. You can plant flowers or other colorful plants around it for a more eye-catching result. This will also allow you to have different colors all year round, so you don't have to worry about certain types not blooming in certain seasons.
Add a Seating Area
If you have pool landscaping ideas that include a seating area, it's important to make sure they are low enough so people can easily get into the pool if necessary. You may also want to consider decorating this part of your landscape with things like pillows or chairs for a more comfortable look.
Add a Waterfall
Also, consider adding some water features to enhance its beauty. You can either create an actual waterfall with rocks or add plants and flowers around it for decoration purposes. This will give your landscape more depth while still making sure that everyone can enjoy themselves.
Create a high fence
If your pool is located in the backyard and there are many neighbors around, then using a tall fence can be an excellent inground pool landscaping idea. This way, people won't even know that your pool exists!
Just make sure the wall doesn't block out too much sunlight, or it will affect how well grass grows near your pool.
Also, choosing materials such as iron fences because they don't rust over time leads them to fall apart easily while creating dangerous conditions.
Pool enclosure
Pool enclosures are designed to give your pool a unique look. They also help maintain the pool water temperature, which is typically higher than the outside temperature.
Pool enclosures are available in different materials, such as wood, glass, and aluminum. They come in a variety of styles too which you can choose one that suits your preferences. So, you have the freedom to work around your landscaping theme and personal preferences.
A pool enclosure will help prevent small children from entering the pool area, fulfilling the fence's purpose, especially if it's lockable.
Should You Do the Pool Landscaping Yourself or Hire a Professional?
It depends on who you are and what your particular skills, tools, and time are like. I would suggest hiring a professional–you'll get better quality work more quickly. By hiring a professional, everyone avoids causing grounds for marital bliss and gets back to their regular lives without having too many distractions or concerns about it.
That being said, if you have the time or interest in learning by trial and error or don't have the money to hire a pro, doing it yourself is also an option. You can often save money by doing it yourself this way too!
How much does landscaping a pool cost?
The costs vary significantly depending on a variety of factors:
What is your budget for the project?
What is your desired level of quality for materials?
Are there any architectural considerations such as homeowner associations or regional restrictions that need to be followed?
Are you looking for a complete pool landscape renovation or just some quick fixes to spruce up an old design?
Do you have any cooling systems in place currently, and if so, what are they made from, and how much experience do you have with them?
As you can see, there are many questions to consider before you can get a specific quote. The good news is that there are ways to save money and increase the time within your budget.
Related Questions
What are the best shrubs to plant around a pool?
This is a broad question. So I'd say trees, bushes, and groundcovers are the best landscaping for pools! Just like with any property that has an "edge" or border between their outside property and the adjacent property, at some point, you'll need something to act as a buffer; if it has rocks use succulents; if not, try lavender.
For privacy, I recommend Chamaecyparis pisifera (Western Redcedar), which has a neat texture and striking leaves; Thuja plicata or Thuja occidentalis (Arborvitae); Schilopsis linearis (White Branched Oak); Pinus patula (Grindel's Pine) and Quercus macrocarpa (Limber Oak).